New research shows that zinc may be very effective in fighting the common cold, especially when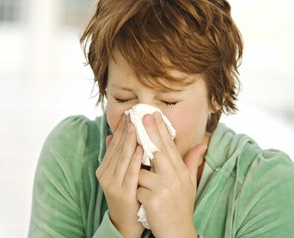 taken in the first 24 hours of noticing symptoms.  The article states that zinc appears to have antiviral properties that prevent the cold virus from replicating or attaching to nasal membranes.  Which for the cold sufferer means less time feeling yucky.
It seems that the research is still in some early stages as far as clear cut recommendations about the optimal dose, formulation or duration of zinc use.  But if you go to your local health food store, there are ample zinc products to try and usually some knowledgeable staff to help you find the right product.  I have found the straight up zinc lozenge to be helpful as well as a zinc with propolis spray which I've used for sore throat.  Feel free to read the article below.  Be Well!
For Cold Virus, Zinc May Edge Out Even Chicken Soup
By TARA PARKER-POPE
Scientists still haven't discovered a cure for the common cold, but researchers now say zinc may be the next best thing.
A sweeping new review of the medical research on zinc shows that sniffing, sneezing, coughing and stuffy-headed cold sufferers finally have a better option than just tissue and chicken soup. When taken within 24 hours of the first runny nose or sore throat, zinc lozenges, tablets or syrups can cut colds short by an average of a day or more and sharply reduce the severity of symptoms, according to the Cochrane Database of Systematic Reviews, a respected medical clearinghouse.
In some of the cited studies, the benefits of zinc were significant. A March 2008 report in The Journal of Infectious Diseases, for example, found that zinc lozenges cut the duration of colds to four days from seven days, and reduced coughing to two days from five.
While the findings are certain to send droves of miserable cold sufferers to the drugstore in search of zinc treatments, the study authors offered no guidance on what type of zinc product to buy. The authors declined to make recommendations about the optimal dose, formulation or duration of zinc use, saying that more work was needed before they could make recommendations.
"Over all, it appears that zinc does have an effect in controlling the common cold," said Dr. Meenu Singh, the review's lead author and a professor in the department of pediatrics at the Postgraduate Institute of Medical Education and Research in Chandigarh, India. "But there still needs to be consensus about the dose."
Zinc experts say that many over-the-counter zinc products may not be as effective as those studied by researchers because commercial lozenges and syrups often are made with different formulations of zinc and various flavors and binders that can alter the effectiveness of the treatment.
"A lot of preparations have added so many things that they aren't releasing zinc properly," said Dr. Ananda Prasad, professor in the department of oncology at Wayne State University School of Medicine in Detroit and an early pioneer of research into zinc as an essential mineral. Two of Dr. Prasad's studies were included in the Cochrane report.
"The public is confused because people have used the wrong dose, they have used the wrong sort of zinc or they have not started the treatment within 24 hours of onset," he said.
Even so, the new report gives credence to the long-debated theory that zinc can be an effective treatment for colds. While it's not certain how the mineral curbs colds, it appears to have antiviral properties that prevent the cold virus from replicating or attaching to nasal membranes.
The first study to show that zinc might be a useful treatment for the common cold was published in 1984, but the research was criticized for its poor methods. Since that study, 18 more trials of zinc for colds have been conducted: 11 of them showed it to be a useful treatment, while seven of them showed no benefit, according to the review.
Although a majority of trials have shown some benefit from zinc, many of them have been criticized for failing to "mask" the treatment, meaning the participants most likely knew they were using zinc, which may have skewed the results. At the same time, many of the trials that showed no benefit from zinc have been criticized for using formulations that may have contained ingredients that blunted the effectiveness of zinc.
The Cochrane reviewers selected 15 studies that enrolled a combined 1,360 participants. The studies were all considered to have good methodological quality with a low risk of bias, but they were far from perfect. All the studies compared zinc use with a placebo, but in several studies the zinc users complained about the taste of lozenges, suggesting that some people may have known that they were using zinc rather than a placebo.
Even so, when the data was pooled, the effect shown was strong. The review found that not only did zinc reduce the duration and severity of common cold symptoms, but regular zinc use also worked to prevent colds, leading to fewer school absences and less antibiotic use in children. People who used zinc were also far less likely to have a cold that lasted more than seven days.
The studies used various forms and doses of zinc, including zinc gluconate or zinc acetate lozenges and zinc sulfate syrup, and the dose ranged from 30 to 160 milligrams a day. Several studies in the Cochrane review used zinc acetate lozenges from the Web site ColdCure.com, created by George Eby, the researcher who wrote the first zinc study in 1984.
Dr. Prasad said his studies have used zinc acetate lozenges from ColdCure.com that contained about 13 milligrams of zinc. Study participants took a lozenge every three to four hours during the day for four consecutive days, resulting in a daily dose of 50 to 65 milligrams a day, he said.
Some cold sufferers have been wary about using zinc since the Food and Drug Administration warned consumers to stop using Zicam nasal sprays and swabs, which contain zinc, after numerous reports that some users lost their sense of smell after using the product. The Cochrane report did not review any studies of nasal zinc products.