It's finally summer here in the bay area, but that doesn't mean that allergy season is over.  Especially this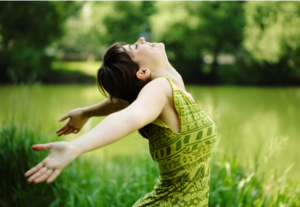 year.  With the extremely wet weather it seems like everything is blooming double time and more people than ever are being affected.
Take me for instance; I have never been affected by hay fever until last year.  I had some acupuncture treatments, drank nettle tea and did pretty well.  This year however was brutal!  Acupuncture and nettles just couldn't touch it.  I had no idea my eyes and nose could itch so much.  I felt on the verge of insanity and wondered how on earth I would see my clients when I was sneezing and itching this bad.  I was so desperate for relief that I tried over the counter meds.  Nothing.  In fact, I think some of then actually made me feel worse.
Just as I was contemplating a spring and summer spent inside with the windows shut and an air purifier on, I remembered a company that my acupuncturist told me about.  Tango Advanced Nutrition.  They make Chinese herbal formulas, and they really work!  They have a local store front here in Noe Valley so I went down to investigate.  I bought a bottle of Allerphase, took 2 caplets like the bottle said and waited.
To my surprise and delight it worked!  I had had a long conversation on the phone with Jim, the owner of the company, so I was hopeful that the product would do what he said and it really does.  Allerphase just doesn't just mask your symptoms, it takes them away.  No side affects, no jitters, no groggy feeling.  I felt normal at last.  In fact this entire allergy season I have forgotten that I was so plagued by hay fever.
My results were so positve that I became a whole saler and now offer these products to my clients or they can be purched directly through Tango.  I have since tried some of there other products ( Immunophase and Arthriphase ) which I am equally happy with.
One thing to mention about the Allerphase, it does work right away and you need to take it 3 times a day till you get it in your system.  Then you can start to decrease as symptoms get less.  If you are an allergy sufferer to pollen, mold, dust or pet dander do yourself a favor and try this product.  It really does work.
If you have any questions about this product of any others feel free to contact me, I'd be happy to tell you what I know.
Be Well!